Throughout the early days of the pandemic many agencies elected to put off strategic planning while dealing with the more pressing issues of how to offer programs and services virtually and how to ensure employees could work effectively from home. Organizations showed great resilience and commitment to their clients by quickly pivoting to adjust to the restrictions of the pandemic, while still doing the best to provide services.
Many elected to extend their existing strategy for another year, and even two. Some used scenario and short-term planning to get through the short-term challenges of the pandemic. As organizations settled into the new normal, they have begun to consider how best to develop a strategy for the future, albeit one that still includes some unknowns with regards to the pandemic, funding or other variables.
In speaking with MAS clients, our volunteer strategic planning consultants have advised clients on a number of possible options for strategy development. The options include
Extend another year
Consider scenario planning for short term strategy
Refresh your current strategy, updating it to suit the context you are operating in today
Do a full strategic planning exercise, starting from scratch
In order to determine which option might be best for your organization, the first thing to look at is your current strategy. How much of your strategic plan has been achieved over the last 5 years? Are there some strategies or key goals that still make sense and perhaps others that are dated or have been completed (e.g. move into a new space, add additional programs in key areas, form new partnerships, etc.)?
We recommend that you start with a "report card". Assess how you did for each of your strategies. Look at the goals and indicators that you set out for each strategy and assign each one as green (completed), yellow (underway) and red (not done). Provide a comment or note as to why a goal was not completed or was deferred. In some cases, you may have found that a particular goal no longer made sense in the current context or that it had dropped in priority.
Section of a sample Report card:
Once your report card is completed, the board and senior staff have a great snapshot of where the organization stands with respect to the strategies you set for yourselves five years ago.
The next step is to use the report card and discuss with board and senior staff to determine if you feel many of these strategies still make sense or that you want to start over from scratch. If the landscape in which you are operating has changed significantly then you likely want to create a new strategy from scratch. It may or may not be necessary to review the environmental scan to determine if changes or updates are required. You can then discuss with the team and revise your strategic planning activities.
They might look something like this: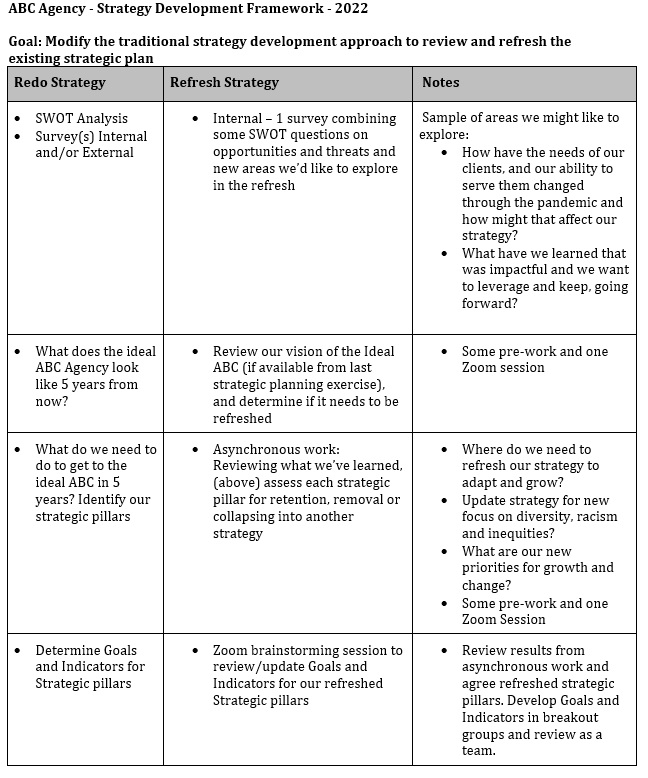 This is just an example of one client's approach. Yours may look a little different and will be suited to your mission, your organization and your team. Whenever possible in-person brainstorming would be preferred over Zoom sessions however many teams have found the convenience of video sessions to be a plus.
The intent of a refresh is not to save time but rather to assess and conserve the best elements of your existing strategy, to bring it up to date to suit the world your agency operates in today and for the next 5 years.